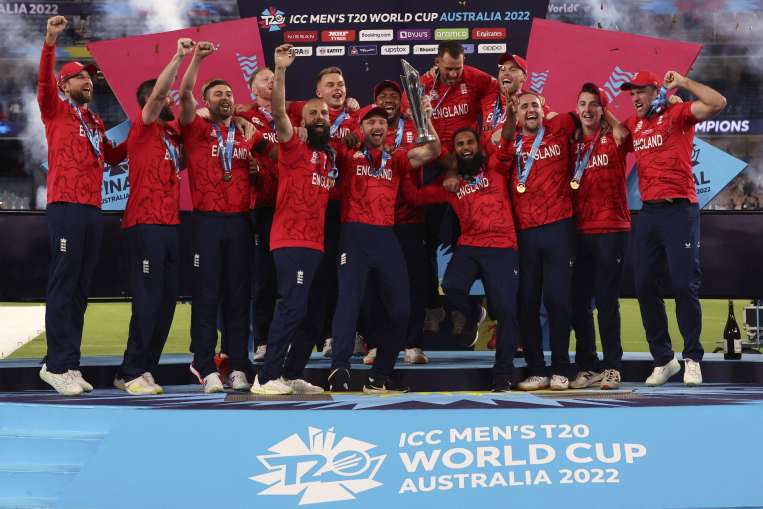 T20 World Cup 2022: England team won their second title by defeating Pakistan by 5 wickets in the final of T20 World Cup 2022. Batting first in this match, Pakistan team put 137 runs on the board for the loss of 8 wickets. In response, the England team easily achieved this target while remaining one over. After this victory, the players of England celebrated fiercely in the stadium.
As Ben Stokes chased down a target of 138 runs with a single at mid-wicket off Mohammad Wasim Jr. off the final ball of the 19th over, it helped England win the T20 World Cup 2022. England registered a five-wicket win over Pakistan in front of 80,462 fans at the Melbourne Cricket Ground on Sunday. Player of the Match and Player of the Tournament, Sam Curran (3/12) was impressive in the first and death overs, while Adil Rashid (2/22) was astonishing in the middle overs as England's careful planning and strategy. He didn't allow them to score runs at any stage to restrict Pakistan to 137/8 in 20 overs.
Stokes' happiness knows no bounds
Ben Stokes said after this win, "It's one of the best days of my cricket career. I think we deserved it as a team, for a long time we've played some amazing cricket, although the results were more Haven't been good, but it's an amazing feeling to beat the Pakistan team in the semi-finals and then to get a grand win today, especially in front of the fans and family." Spin all-rounder Moeen Ali said, "I was just reinforcing my intention, if I don't get out, it was the right balance to be positive and for Stokes, he played some great shots and made an important partnership." He played a crucial innings of 19 runs in 13 balls and was an able ally of Stokes in helping England reach the target under pressure conditions.
Rashid said that you will have fun
Rashid, who became the fourth bowler to bowl a maiden over in the final of the T20 World Cup, said he would enjoy being the double World Cup champion for a long time. Opening batsman Alex Hales, who joined the side after almost three-and-a-half years after Jonny Bairstow was ruled out due to injury, was happy to be part of the championship-winning side. "I certainly didn't think this (my time) would come again. Incredibly great feeling. The last 6-8 weeks have been very special and enjoyable, but this win is special. I took my time They (Pakistan) had a high quality bowling attack and it took me some time to play my shots.
Pace all-rounder Chris Woakes felt it was great for England to win the finals after losing matches in Australia on several previous occasions. "We've lost a lot of matches in Australia so it's really amazing to win this match at the MCG, win the World Cup." Young batsman Harry Brooke said he believed in the team to win the T20 World Cup. A lot of people would say they wouldn't expect to win the World Cup at the age of 23, but being in this team with the players we have, I always thought we were going to win it."