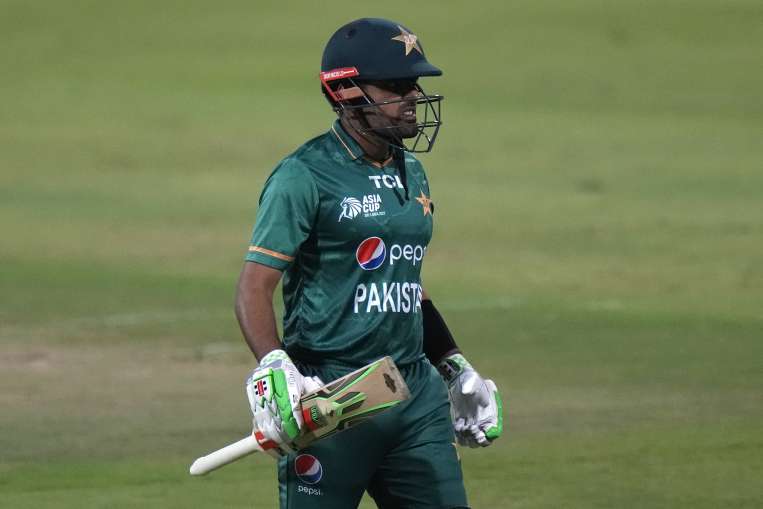 Highlights
Babar Azam's poor form continues
Pakistan captain dismissed for zero against Afghanistan
Babar's best score of 14 runs in Asia Cup 2022
Babar Azam Asia Cup 2022: Pakistan captain Babar Azam is having a bad time. In the Asia Cup, they are playing one after the other, bad and unsuccessful innings. Against Afghanistan, his stars went completely in the dark. In this match, his bat became silent even before rising from the ground.
Babar Azam out for golden duck
Babar Azam's condition in the Asia Cup is so bad that he could not even face a ball in the Super 4 match against Afghanistan. There was no pressure on Babar, chasing the easy target of 130 runs in this match. In front was a young, unknown fast bowler from Afghanistan in the form of Fazlhaq Farooqui. This could have been a good opportunity for the Pakistani captain to return to form. But it was on this occasion that he made the worst performance of the tournament. He returned to the pavilion after getting out on the first ball itself. Babar was dismissed for zero for the fourth time in his T20 International career which included 2 golden ducks. Let us tell you that Virat Kohli was also out for zero against Sri Lanka, which was his fourth duck in T20 International.
Babar's best score of 14 runs in Asia Cup
He scored 14 runs in his first match of the Super 4 round against India and this is also his best score in the tournament. He scored these runs in 10 balls. His wicket was picked up by India's young spinner Ravi Bishnoi.
The journey of failure started from the first match against India
Babar Azam batted for 18 minutes while batting first against India in the first match of the Asia Cup, which is his longest time at the crease. In this match, he scored 10 runs in 9 balls and became the victim of Bhuvneshwar Kumar, as a result Pakistan lost the match against Arch Rivals India by five wickets.
Babur's bat remained silent against Hong Kong
It was a fight or die fight against Hong Kong. That is, Pakistan had high expectations from their captain, on which they turned away. He could spend only 13 minutes at the crease and during this time he scored 9 runs off 8 balls. This was his lowest score in the ongoing Asia Cup till the Golden Duck against Afghanistan.
Babar Azam has scored 33 runs in the Asia Cup 2022 at an average of 8.25 after 4 innings of 4 matches.