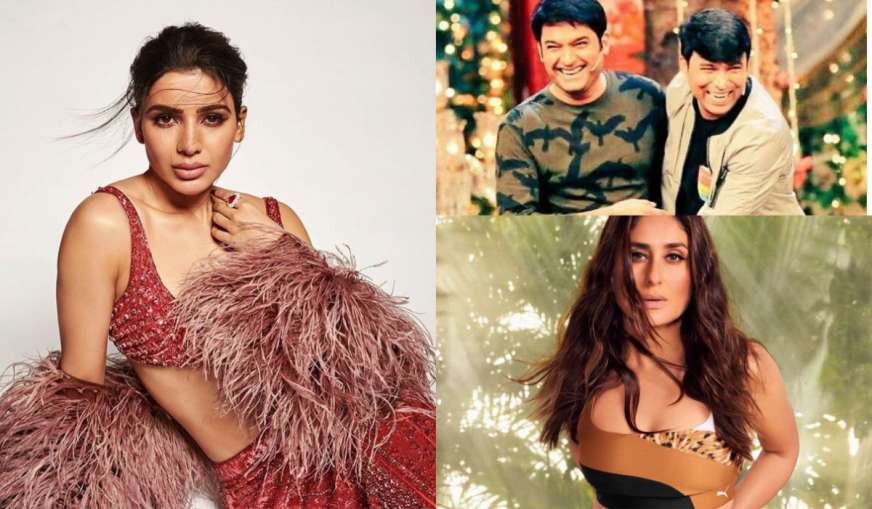 Bollywood Wrap: At the same place and at the same time, we have brought you some spicy news of B-Town again. You will find every up-to-date news from the small screen to the big screen world right here. Our eyes remain on the entertainment industry. So that you do not miss any big news. Let's know 5 big news of the day from Bollywood today …
Samantha Ruth Prabhu: You must have known Samantha Ruth Prabhu of item dance 'Oo Antva Mawa' in Pushpa. Soon now Samantha is going to be seen with Ayushman Khurana. Let us tell you that this will be Samantha's first Hindi film in Bollywood as a lead heroine. According to the information, this film is going to be directed by Stree fame Amar Kaushik. Earlier Samantha was seen in the web series Family Man. The story of the film in which Ayushmann Khurrana and Samantha are going to be seen will be quite horror. Interestingly, she will play the role of a princess as well as a ghost.
Samantha Ruth Prabhu: Pushpa's song 'Oo Antva Mawa' won millions of hearts, now Ayushmann will be seen in this film with Khurrana
Ranbir Kapoor and Alia Bhatt: Director Ayan Mukerji on Wednesday reacted to Bajrang Dal's protest against Ranbir Kapoor and Alia Bhatt in the Ujjain Mahakaleshwar temple incident. Ayan said, "I was feeling bad that Ranbir and Alia didn't come with me for darshan. I had gone to the Mahakaleshwar temple before the release of my motion poster and I had promised myself that I would visit again before the release of the film. And both of them were very eager to come with me. But when we reached there and heard all this, I felt that I should go alone because finally I went there to seek blessings and that blessing is for everyone. Feeling bad, I think they too could have come and had their darshan."
Ayan Mukerji on protest at Mahakaleshwar temple – 'I felt bad for Ranbir, Alia'
Kareena Kapoor: Bollywood actress Kareena Kapoor Khan is the mother of two children Taimur and Jeh. The actress has shared some tips for pregnant women. The 'Jab We Met' actress shares her thoughts on nutrition for pregnant women in the audiobook 'Kareena Kapoor Khan's Pregnancy Bible: The Ultimate Manual for Moms-to-Be' with inputs from renowned nutritionist Rujuta Diwekar. Says Kareena, "When I first started working with my nutritionist Rujuta Diwekar, she told me to start the morning with a banana and I stick to that. It is perfect for your iron and potassium needs. So, my day starts with a banana and five almonds.The actress revealed that she gave up caffeine during her first pregnancy in 2016.
Kareena Kapoor Khan had given up coffee during pregnancy, the actress gave many advice to pregnant women
Ranbir Kapoor and Alia Bhatt: Bollywood star Ranbir Kapoor and his wife Alia Bhatt are going to be seen together in a film for the first time. Ranbir recently spoke on the best performance of his wife Alia Bhatt. Alia made her debut with the 2012 film 'Student Of The Year' and she has had a significant journey in cinema as she has delivered one stellar performance after another. Even after doing so many films, Ranbir finds Alia's best work in her second film 'Highway'.
Ranbir Kapoor told 'Highway' wife Alia's best film, became a fan after seeing it
The Kapil Sharma Show: Comedian Kapil Sharma is all set to make a comeback with the third season of his show. This time many new characters are going to be seen in The Kapil Sharma Show. At the same time, Krishna Abhishek is not going to be seen in this season of the show. Now Chandan Prabhakar, who plays Chandu, has also joined this list. The Kapil Sharma Show has confirmed that Chandan Prabhakar will also not be seen in the new season. Chandan and Kapil have been working together for many years and both are very close friends.