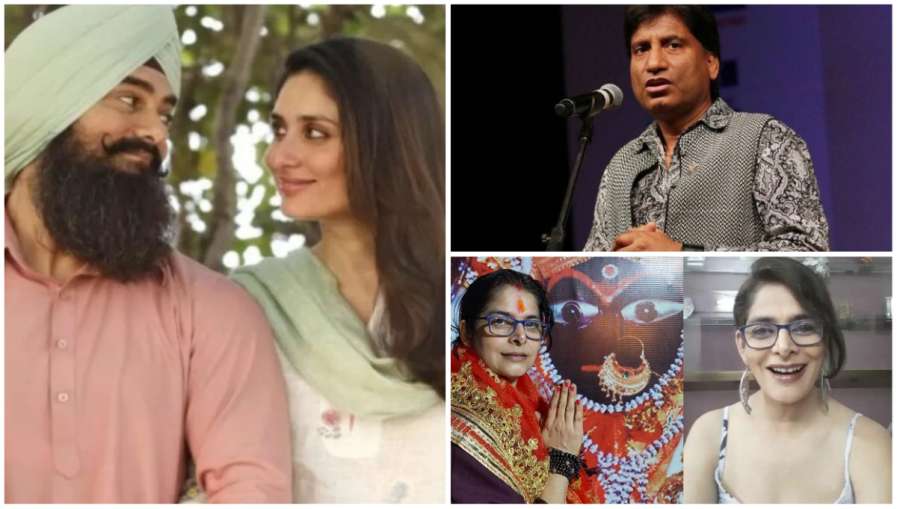 Highlights
Actress Nupur Alankar retires
'Shamshera' makers felt hard lime
Now 'Lal Singh Chaddha' is preparing to come on OTT
Bollywood Wrap: B-Town is such a place where people's eyes are on every movement. Celebrities visit the salon or shoot their fans are always curious to know their every update first. Keeping a close eye on B-Town is also important because something new is happening here every moment. In such a situation, we have come before you with all the big news of both the TV industry or Bollywood industry. Do you also want to know what is happening in the world of stars today? So let's know some big news of glamor world…
Raju Srivastava Health Update: Recently some people also claimed that doctors have declared Raju Srivastava brain dead. At the same time, his brother Dipu Srivastava and comedian Sunil Paul have told the truth by sharing the update of Raju Srivastava's health. The family of the 58-year-old comedian rubbished the reports saying that Raju Srivastava is recovering and will come out of it soon. Deepu Srivastava said that I want to tell you that your prayers are having an effect. Raju Srivastava's health is improving. He will get well soon.
Raju Srivastava Health Update: Raju Srivastava's brother and Sunil Paul gave good news, said – Comedy king will return soon
TV Actress Nupur Alankar Quits Industry Takes Sanyaas: Well-known actress Nupur Alankar has surprised everyone by suddenly announcing that she is leaving the TV industry. She has recently told in an interview that she has retired from the industry. In the interview, she appeared in Rudraksh garland and saffron clothes only. Not only this, she is now going towards the Himalayas and is going to spend the rest of her life there.
TV actress Nupur Alankar left the glamor world for spirituality, retired, now going to Himalayas
Ranbir Kapoor's Shamshera on OTT: Ranbir Kapoor-starrer 'Shamshera' started streaming on Amazon Prime Video on Friday. But before this, the makers have got a big hit. Delhi HC asks Yash Raj Films to deposit Rs 1 crore before releasing Ranbir Kapoor starrer on OTT platform. Actually, the film was accused by a person named Bikramjit Singh Bhullar under the Copyright Act. After which the court gave this decision.
Ranbir Kapoor's Shamshera caught in legal trouble, makers lost so many crores before OTT release
Laal Singh Chaddha on OTT: After a weak performance at the box office, now Aamir Khan's film 'Lal Singh Chaddha' is preparing for release on OTT. It is reported that after two-three months, the film will be streamed on OTT. For which the deal has been finalized for Rs 100 to 120 crores.
Salman Khan: First look of 'Bhaijaan' out, Salman Khan looks super stylish in long hair and goggles, fans go crazy
Salman Khan New Look: Bollywood's 'Dabangg Khan' i.e. Salman Khan is busy shooting for his films 'Tiger 3' and 'Bhaijaan' these days. Often his pictures and videos are leaked from the sets of both Salman's films. But now Salman himself has shared a picture of himself on social media, in which his new look is visible. This picture of Salman Khan is becoming increasingly viral on social media. Because in this, Salman is looking very stylish while posing with long open hair and goggles.