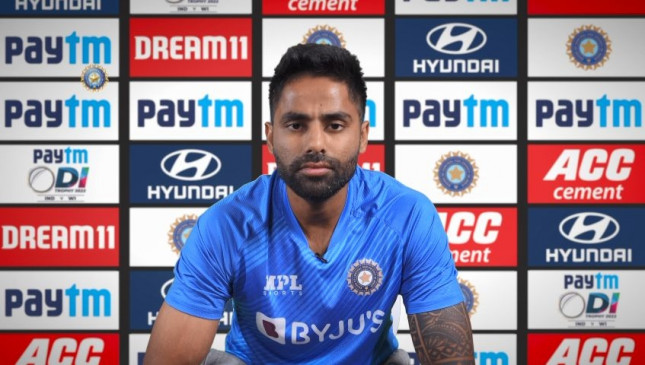 Digital Desk, Kolkata. Stylish batsman Suryakumar Yadav, who played a key role in India's six-wicket win over West Indies in the first T20I, has revealed that he used to feel bad for not finishing the match in the past.
While chasing down the target in the first T20, India were in trouble after losing early wickets. However, the in-form Suryakumar (34 off 18) put up a crucial 48-run partnership with Venkatesh Iyer (24 off 13) in the chase to help India win.
Suyakumar said, it was very important for me to stay till the end and finish the game. I have been in this situation many times. Every time, when I was out, leaving behind 20-25 runs, I used to feel bad. I think the situation was perfect. I just needed to raise my hand and get the team out. But I am very happy with this match win.
Praising his batting partner Venkatesh Iyer, Suryakumar said, the way he came on the field and batted, it was commendable. He started his innings with a boundary, I thought it was the perfect platform for both of us to end the game.
The stylish batsman also mentioned that skipper Rohit Sharma has been batting brilliantly, which he has been following for many years.
Before Suryakumar and Venkatesh reached the end, Rohit batted aggressively and hit three sixes and four fours in a 64-run partnership with Ishan Kishan.
Suryakumar said, what shall I say? The whole world is watching his batting. He is an excellent player. He played like he has been playing for India for so many years. He's not doing anything different.
"When he is batting in the powerplay, he feels that he is in good rhythm, then he takes advantage of that," he said. He is leading from the front and performing brilliantly.
(IANS)