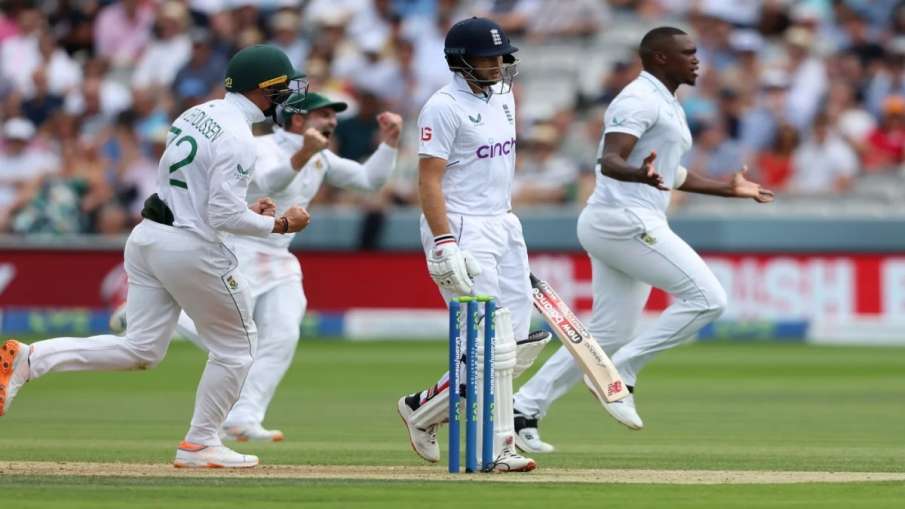 Highlights
England suffered a crushing defeat in the first test
South Africa beat England by an innings and 12 runs
Kagiso Rabada named player of the match
ENG vs SA: England suffered a humiliating defeat in the first Test of the series. He was defeated by South Africa by an innings and 12 runs in just three days at the historic Lord's Ground in London. This victory is going to put England to shame as they got this defeat in just six sessions, out of which half of the day's play was washed away due to rain. Only 32 overs could be played on the first day of the match, despite this, the English team could not last even three days in this match. This is England's first defeat in Test cricket after Ben Stokes took over as captain and Brendon McCullum as head coach. With this win, South Africa has explained why they are at the top of the World Test Championship table.
England on the back foot on the first day
The first Test of the series started on Wednesday. Due to intermittent rain on the first day, only 32 overs could be played. England's team was all out for 165 runs on the second day of the match. Olly Pope scored the highest 73 runs for the hosts while seven of his players could not even reach the double figures. Kagiso Rabada took the highest 5 wickets in the first innings, while Enrique Norcia got three successes and Marco Yansen got two wickets.
South African batsmen took news of English bowlers
In reply, Safath Africa got off to a good start. Captain Dein Elgar and Sarel Irvi shared an 85-run partnership. Irvi top-scored for the visitors with 73 while Elgar added 47 runs and all-rounder Yansen added a brilliant 48. South Africa's innings ended on 326 runs after batting 89.1 overs. They took a lead of 161 runs on the basis of first innings.
England did not work ,'Bazzball' effect
England's worst period in this match came in their second innings. Six of his batsmen were settled on the score of one point. At the same time, Joe Root, who scored eight runs in the first innings, took the path of the pavilion by scoring six runs in the second innings. Captain Ben Stokes scored 20-20 runs in both the innings and was dismissed with an aggressive shot to bring out the bazball effect. As a result, the English team was all out for just 149 runs in the second innings. Enrique Norcia took the highest three wickets in this innings. While Lungi Ngidi, Yansen, Keshav Maharaj and Rabada got 2 each. Rabada, who took the highest seven-wicket haul in the match, was adjudged the player of the match.