Filmfare Took Back Kangana's Award Nomination: You must have heard about the Filmfare Awards. The prestige of these awards is such that it is given a status equal to the Academy Awards of the United States i.e. US. However, on the previous day, accusing Filmfare, actress Kangana Ranaut decided to sue against it, after which a big step has been taken by Filmfare.
As everyone knows, the nomination list for the 67th Filmfare Awards 2022 (67th Filmfare Awards) has come out. In this, where Ranveer Singh has been nominated for the film '83' in the Best Actor Male category, Kangana has been nominated for the film 'Thalaivi' in the Best Actress Female category. While other stars would have been happy and thanked Filmfare for this news, Kangana Ranaut has decided to sue them for this.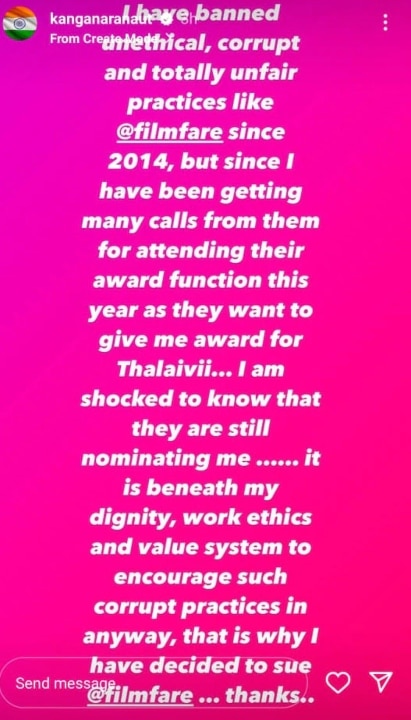 Now it is reported that Filmfare has taken a big step on this matter. According to reports, the magazine has withdrawn Kangana's nomination by issuing a long statement. In its post, the magazine has said that all the allegations made by Kangana are baseless and that she gives the award to the nominee even when she is neither present in the function nor gives any performance.
Filmfare shared the full message
Filmfare has also shared the message that was sent to Kangana for her nomination. The message read, 'Hello Kangana, congratulations on your nominations at the Filmfare Awards. It will be a pleasure to be there, Please confirm your presence on 30th August at Jio World Convention Center in BKC, Mumbai. This will help in reserving your seats. Please send us your home address so that we can send you invitations.
What did Kangana say?
In her Insta story, Kangana had told that she has banned Filmfare since 2014. She wrote, 'I have turned away from immoral, corrupt and totally unfair practices like Filmfare since 2014 but I am getting many calls to attend their award ceremony this year. He wants to give me an award for 'Thalaivi'.