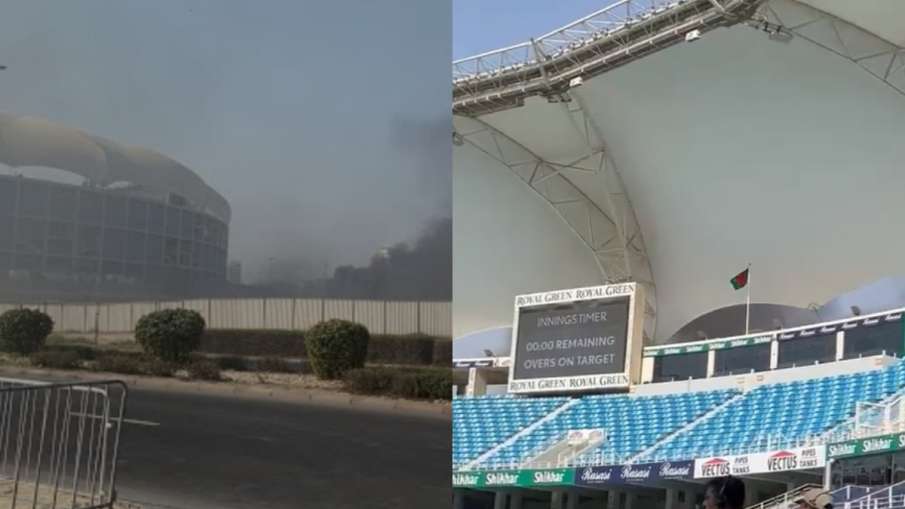 Highlights
Fire broke out before India-Afghanistan match
Fire near Dubai Stadium
India-Afghanistan match at Dubai Stadium
Fire near Dubai Stadium, IND vs AFG Asia Cup 2022: A fire broke out near the Dubai International Stadium ahead of the Super 4 match between India and Afghanistan. Efforts are on to control this fire. The fire department of Dubai is busy working in full swing. India has to face Afghanistan on this ground today i.e. on Thursday. Due to this fire, the timing of the match can be affected. Although it has not been officially confirmed, but the possibility of delay in the toss cannot be ruled out if the fire is not brought under control soon.
Due to fire, there may be a difference in the timing of the match.
In this match between India and Afghanistan, the first ball is to be bowled at 7.30 pm Indian time. At the same time, the toss of this match is to be held at seven in the evening. The possibility of variation in this timing due to fire cannot be ruled out.
This match of Asia Cup 2022 for both India and Afghanistan teams is just a formality. Both the teams have lost the first two matches of the Super 4 round, so there is no chance of both of them reaching the final.
Pakistan and Sri Lanka have secured their place in the final by winning 2-2 matches in the Super 4 round. Despite this, the teams of India and Afghanistan will try their best in today's match to get away with a win from the Asia Cup.
India had made it to the Super 4 with great pride after winning both their matches in Group A. They defeated Arch Rivals Pakistan by 5 wickets in the first match and defeated Hong Kong by 40 runs in the second match. Before India, Afghanistan made it to the next round by winning two consecutive matches in Group B. He defeated Sri Lanka and Bangladesh in two consecutive matches. But in the next round, the bet was reversed for both these teams.
India had to face two consecutive defeats in the Super Four of the Asia Cup. In the first match, Pakistan defeated the Indian team by 5 wickets in a very exciting manner in the last over, while in the second match Sri Lanka defeated by 6 wickets. Afghanistan also crashed out of the final race after losing both their opening matches in Super 4.
Now it is the turn of the last match to be held today. The victory in this match will not achieve anything in the tournament, but before the T20 World Cup to be held in October-November this year, they can definitely be able to return home with some respect.