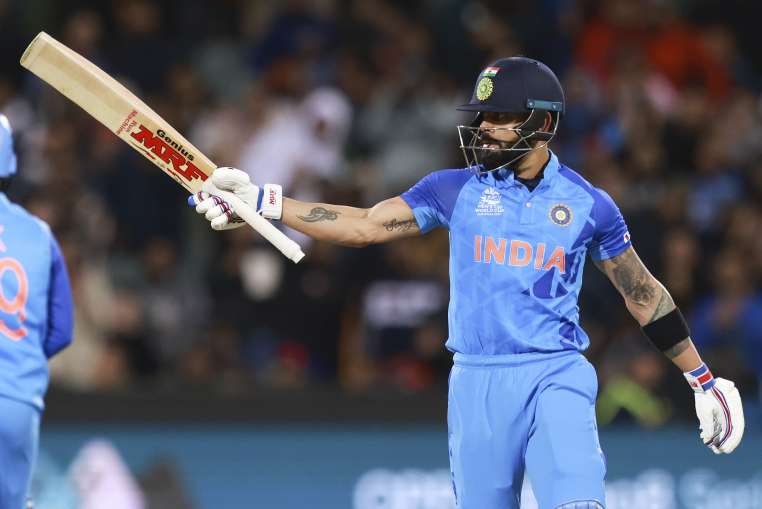 IND vs BAN: The match was played between India and Bangladesh in the T20 World Cup. In this match, India defeated Bangladesh by 5 runs. Batting first in this match, India scored 184 runs on the strength of Virat Kohli's brilliant fifty. Virat Kohli was adjudged the player of the match for his brilliant batting. Virat Kohli of the match has talked about the World Cup being played in Australia.
Kohli's Fifty
Virat Kohli said that when he came to know that the T20 World Cup was to be played in Australia, his heart went to Baghdad. After returning to form, Kohli has continued to do well in the World Cup as well. He started his campaign with a fine 82 against arch-rivals Pakistan and played a scintillating knock of 64 off 44 balls against Bangladesh here on Wednesday.
What did Kohli say?
Kohli said after the end of the match against Bangladesh, "As soon as I came to know that this year's T20 World Cup is to be held in Australia, my heart went to Baghdad. I knew it would be important to play a good cricketing shot. I knew the experience of playing in Australia would be very beneficial for the team." Kohli scored the most runs in the rain-hit match. India won this thrilling match by five runs. He said, "Today's match was very close, but not as close as we would have liked. It was another good day at batting. When I came to the crease, there was pressure on the team. I understood the ball very well. I was feeling good but I don't want to compare anything. Whatever happened in the past is a thing of the past.
The Adelaide Oval ground has always been lucky for Kohli. He scored his first century in Test cricket at this ground and scored centuries in both innings while making his Test debut as captain two years later. He said, "I love playing on this ground. From the nets to hitting the ground, I feel at home here. The innings played in Melbourne has its own importance but when I come here it feels different and I enjoy my batting to the fullest.
Virat in T20 World Cup
Virat Kohli has scored 220 runs in 4 matches in this World Cup at a strike rate of 144.44. Virat has been dismissed only once in 4 matches in this World Cup. He has completely dominated the opposition team with his bat in the entire World Cup. Such form of Virat Kohli is a good sign for Team India's mission to the world. India has to play its last match against Zimbabwe in Super 12. This match will be played on Sunday 6 October.