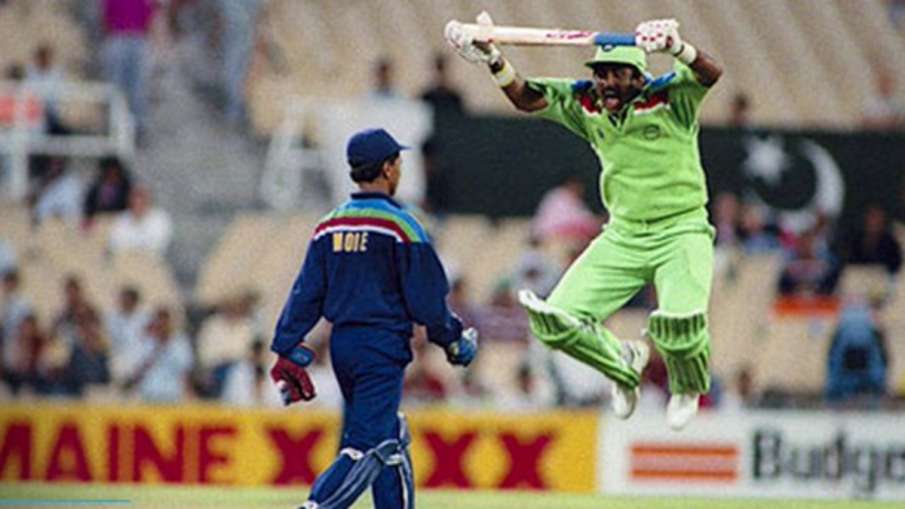 Highlights
Javed Miandad was annoyed by Kiran More's appeal in 1992 World Cup
India beat Pakistan by 43 runs in this match
India-Pakistan great match will be held on August 28 in Asia Cup
IND vs PAK: When the match between India and Pakistan takes place on the cricket field, the atmosphere is full of excitement everywhere. Players on the field also enter the field with different energy in this high voltage match. Whenever there is talk of memorable cricket matches of India and Pakistan, then those incidents are also remembered when the players clashed with each other. One of them is the famous anecdote of Pakistan's Javed Miandad and India's wicket-keeper batsman Kiran More.
The Asia Cup 2022 between India and Pakistan is going to be played on August 28. Before that, many old tales are also being remembered. This is one of them. You must have often seen that jump of Javed Miandad on social media. That occasion was the 1992 Benson and Hedges Cup (ODI World Cup) when the teams of India and Pakistan were face to face. The atmosphere at the Sydney Cricket Ground was quite hot. And even if it was not a match between India and Pakistan, that too a World Cup match. The players were also under a lot of stress. Meanwhile, during Pakistan's batting, there was an altercation between batsman Javed Miandad and Indian wicketkeeper Kiran More.
Miandad started jumping on the pitch like a frog
In fact, playing first, India had given a target of 217 runs to Pakistan and in reply, Pakistan lost two wickets. Sachin Tendulkar was bowling and Indian wicketkeeper was Kiran More who was making repeated appeals. Due to which Miandad got angry. There was quite a verbal argument between the two. Miandad also went to the umpire and complained about More. When Miandad was running for two runs on the next ball, Kiran More appealed for a runout against him. Javed got so annoyed at this that he started jumping like a frog on the pitch itself.
India beat Pakistan by 43 runs
In this match, Indian team batted first and scored 216 runs in 49 overs for the loss of 7 wickets. Sachin Tendulkar played an unbeaten half-century of 54 runs for India. For Pakistan, Mushtaq Ahmed took 3, Aaqib Javed 2 and Wasim Haider took one wicket. In reply, chasing the target of 217 runs, the start of Pakistan was not good and two wickets fell for 17 runs. Opener Amir Sohail played an innings of 62 runs and stood at one end. Javed Miandad also contributed 40 runs but Pakistan's team was reduced to 173 in 48.1 overs. Kapil Dev, Manoj Prabhakar and Javagal Srinath took 2 wickets each for India. Sachin Tendulkar and Venkatapati Raju also got one success each.