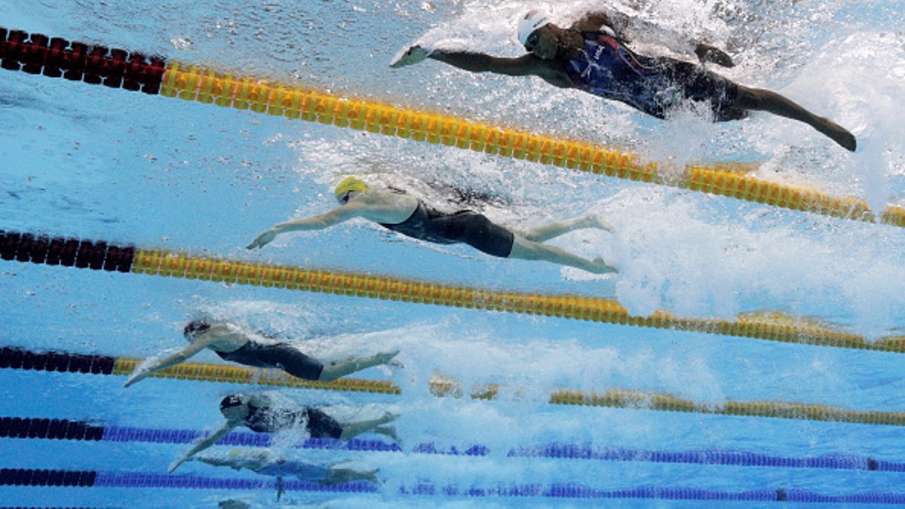 Highlights
Women athletes shine in National Games
Hasika Ramachandra won 4 gold medals
Ritika Sriram title reached close to hat-trick
National Games 2022: Karnataka's swimmer Hasika Ramachandra has created panic with her ongoing performance in the National Games. He has won a total of four gold medals, one after the other in the four National Games in Ahmedabad. He took his total gold medal tally to four in the 36th National Games by winning the first 200m butterfly and then the 4x200m freestyle relay gold medal.
Hasika hits a gold four
14-year-old Hashika Ramchandra tried her best to beat Aastha Choudhary in the women's 200m butterfly and eventually clocked 2:19.12s to finish first with a new national record. He also set a national record with the relay team.
Ritika close to title hat-trick
Ritika Sriram of Maharashtra kept her hopes alive of a title hat-trick by winning the women's 10m platform competition at the Sardar Patel Aquatics Complex. This is his second gold medal in three days and his 10th gold medal in four national games. This railway diver who lives in Mumbai scored the highest 179.30 marks. Palak Sharma of Madhya Pradesh won the silver medal with a score of 175.10 and Isha Waghmare of Maharashtra won the bronze medal with a score of 172.35.
despite the pain
On the other hand, Sajan Prakash made an impressive appearance by winning his favorite competition men's 200m butterfly with a National Games record despite a pain in the abdominal muscles.
Services top in medal tally
Meanwhile, Services remained on top with 40 gold medals and a total of 89 medals. Haryana is at the second position with 25 gold medals while Maharashtra is at the third position with 24 gold medals.
Line-up fixed for final match of badminton
In badminton, former Telangana national champion B Sai Praneeth will take on Mithun Manjunath of Karnataka in the men's singles final on Thursday. Sai Praneeth defeated Karnataka's M Raghu 21-12, 21-19 while Mithun defeated Aryaman Tandon of Gujarat 21-9, 21-11 in the semi-finals. On the other hand, top seed Malvika Bansod of Maharashtra will play second seed Akarshi Kashyap of Chhattisgarh in the women's singles title match. In the women's semi-final, Malvika defeated Aditi Bhatt of Uttarakhand 21-10, 19-21, 21-13 while Akarshi defeated Tanya Hemant 21-9, 21-15.