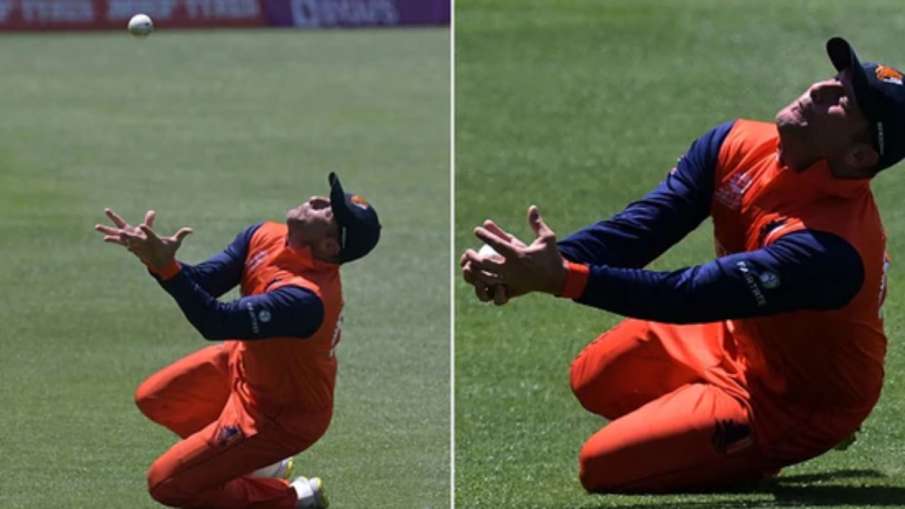 NED vs SA T20 World Cup 2022: Another major upset of the T20 World Cup 2022 has happened and this time the South African team, which is considered to be the title contender, has had to taste it. South Africa suffered a 13-run defeat at the hands of the Netherlands in the Group 2 match of the Super 12 stage. In this entire match, the players of Netherlands played great cricket. But in this match, Netherlands veteran Roelof van der Merwe caught a catch that changed the picture of the match itself.
One catch snatched the match from Africa
The Netherlands team scored 158 runs while batting first in this match. In reply, South African team could score only 145 runs losing 8 wickets and lost the match by 13 runs. The biggest turning point of this match was the catch of van der Merwe. Actually, David Miller and Heinrich Klaasen were batting in the 16th over of the African team's innings. Had these two batsmen stayed on the crease till the end, then the African team would have easily won this match. But then on the very first ball of the over, Miller tried to pull a ball. Instead of going long, this shot went high in the air. Van der Merwe, who was fielding behind the wicket, took a brilliant catch from Miller while running back.
Van der Merwe, who played for South Africa in the 2009 and 2010 World Cups, took this catch and threw his old team out of the World Cup. This catch was also special because Marve is currently 37 years old and in spite of this he managed to take this catch. From here the match has turned to the Netherlands and the South African team was out of the World Cup.
South Africa's defeat
Talking about the match, Quinton de Kock tried to give a quick start to South Africa chasing the target of 159 runs from the Netherlands but he failed to advance his innings and went on to score 13 runs. After that, Captain Bavuma also could not do anything special and returned after scoring 20 runs. After this, David Miller (17), Riley Rousseau (25), Aiden Markram (17) and Heinrich Klaasen (21) lost their wickets early on in the pursuit of quick runs. The South African team suffered the loss of wickets continuously and the Netherlands bowlers kept the pressure on them. South African team could score only 145 runs in 20 overs for the loss of 8 wickets and lost the match. Brandon Glover was the most successful bowler for the Netherlands with three wickets.