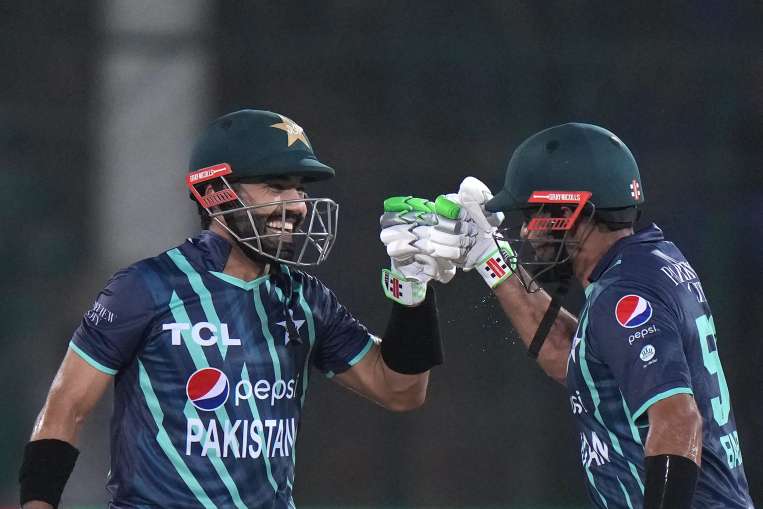 Highlights
Pakistan beat England by 10 wickets
Babar Azam scored second century of T20 career
Rizwan played a brilliant innings of 88 runs
PAK vs ENG: In the second T20 match of the series against England, Pakistan's opening pair batted vigorously. Captain Babar Azam and Mohammad Rizwan gave England such a defeat on the basis of their excellent partnership, which they will be ashamed of for a long time. Pakistan defeated the British by 10 wickets at the National Stadium in Karachi to level the series 1-1.
Pakistan superhit with Babar's century
Batting first, England had set a difficult target of 200 runs for Pakistan to win. Achieving such a huge target for the team of legendary Pakistani batsman Babar Azam, who is constantly struggling with the Asia Cup, seemed impossible till the start of the innings. Babar also started at a slow pace. But he did not get out like in the previous matches. Slowly but surely, he remained at the crease and touched the 50-run mark in 38 balls. After this, Babar changed gears and started advancing his innings in an explosive manner. Whether fast bowler or spinner, he thrashed everyone mercilessly. He completed the second half of his innings in just 24 balls. The Pakistani captain scored the second century of his T20 career in 62 balls. Babar played an unbeaten innings of 110 runs in 66 balls in this match, which included 5 sixes with 11 fours. He also became the first player to score 10 international centuries as a Pakistani captain.
Rizwan played a strong half-century innings
In this century innings of Babar, he got a lot of support from his partner Mohammad Rizwan. Rizwan completed 50 runs in 30 balls, moving the scoreboard at a fast pace from the beginning. He scored 38 runs after his innings in 21 balls. Rizwan scored an unbeaten 88 off 51 balls in his innings which included 4 sixes with 5 fours.
The British lost even after giving a target of 200 runs
Earlier, winning the toss and batting first, England started with nothing special. His two wickets went out for just 42 runs. England's innings got momentum in the 13th over after captain Moeen Ali came to the crease. Moeen played a swashbuckling innings at number six and scored an unbeaten 55 off just 23 balls to take England to 199 in the end of 20 overs.