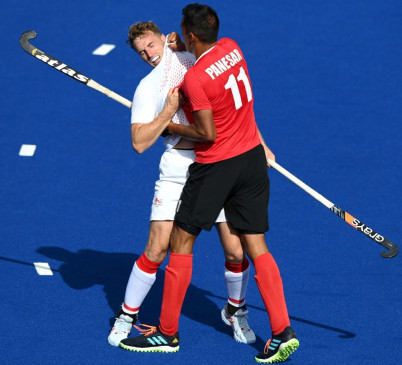 Digital Desk, Birmingham. In the Commonwealth Games being played in Birmingham, England, two players clashed in the hockey match played between hosts England and Canada on Thursday. They started pulling each other's T-shirts. The fight escalated so much that one player grabbed the other player's neck. The umpire came in the middle and pacified the matter. After this incident, the playground turned into a battlefield for some time.
— Hockey World News (@hockeyWrldNws) August 4, 2022
Let us tell you that in this match, the England team registered a one-sided victory. The team defeated Canada by a huge margin of 11-2. With this win, England's team moved to the second place in the group while India are present in the first place. With this, England's team will now face India in the semi-finals. And in the semi-final with India, either South Africa or New Zealand will play. Its decision will be taken after the results of the league match between these two.
This is how the fight started
The fight in the match started shortly before half time. At this time, England were leading 4–1 in the match and Canada was taking an aggressive approach to make a comeback in the match. Meanwhile, Canadian team player Balraj Panesar and England's Chris Griffith clashed for snatching the ball.
Actually, Balraj's hockey stick got stuck on Griffith's hand in an attempt to snatch the ball. Furious at this, Griffith pushed Balraj hard. After this the anger between the two increased and both of them started pulling each other's T-shirts. During this, the Canadian player caught the English player's neck.
The match referee came to the ground to intervene
Seeing the quarrel between the two, the match referee had to come to the ground to intervene. The referee then blamed Canada's Balraj Panesar for starting the fight, showing him a red card and kicking him off the field. At the same time, Griffith was warned by showing the yellow card.