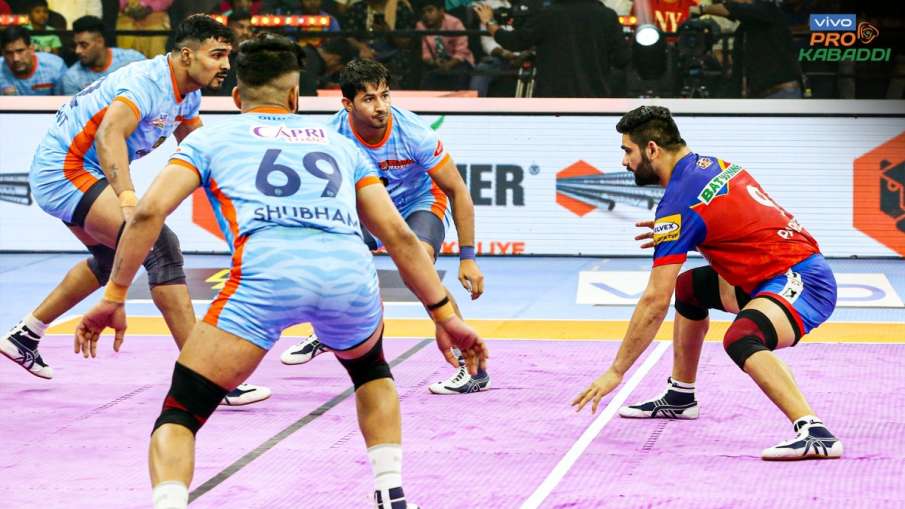 Pro Kabaddi League: UP Yoddha beat Bengal Warriors 33-32 in a thrilling encounter of the Pro Kabaddi League and strengthened their position to qualify for the playoffs. The UP team is currently third in the league table with 60 points from 18 matches. In this match, the UP team had maintained an edge from the beginning, but in the end, the Bengal team came very close to equalizing. However, UP's star raider Pradeep Narwal made his team win by performing amazingly.
UP won on the strength of Pradeep Narwal
In this match, UP Yoddha took a 5-3 lead in the fifth minute. However, the Warriors pulled off a super tackle and leveled the scores at 5-5. After a while, Ashish Sangwan faced Rohit Tomar. Warriors took a 7-6 lead in the 9th minute. However, Vinod Kumar missed a raid, allowing the Warriors to level the score at 8–8. Warriors continued to perform well and were all out at 13-10 in the 15th minute. Narwhal continued to pick up touch points as the Warriors charged ahead. The star raider made a multi-point raid to help his team lead 19-11 at the stroke of half-time.
Bengal team got all out as soon as the second half started
The Warriors went all out in the opening minute of the second half and took a huge 22-11 lead. Maninder Singh from UP dominated the match by 24-13 in the 23rd minute. Warriors lead 26-16 in the 27th minute. It was difficult for Maninder Singh to break down the Warriors' defense as the UP side restricted the Warriors to just three men on the mat. Maninder made a brilliant raid in the 35th minute but the Warriors fell far behind at 22-32. However, the Warriors did not lose hope. Maninder did a super raid and helped his team inflict an all-out in the 39th minute, trailing by just three points at 29-32.
Narwal then on a raid ensured that he secured a bonus point before being caught and ensured that his team was ahead 33-31 in the final seconds of the match. Maninder hit another raid to leave the Warriors just one point behind at 32-33 before the final raid. But, Tomar stepped in carefully and ensured that Yoddha emerged as the winner at the end of the match.