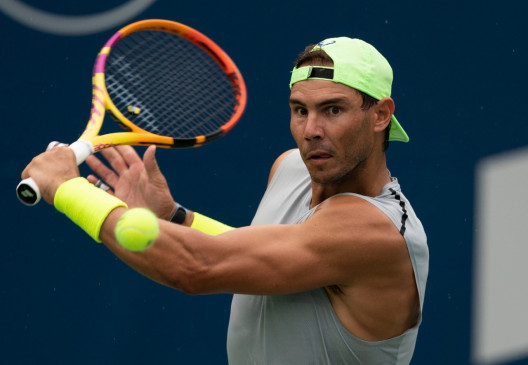 Digital Desk, Canada. World number three Rafael Nadal withdrew from the National Bank Open to be held here on Friday due to injury. The Spaniard suffered an injury during his quarter-final match against Taylor Fritz at Wimbledon on 6 July. Nadal was later forced to pull out of his semi-final match against Nick Kyrgios, despite struggling through the pain of a spectacular five-set win against the American.
Nadal needs more time to recover from the problem, prompting him to withdraw from the hard-court ATP Masters 1000 event in Canada. "I have been practicing for some time and started with serve four days ago," Nadal was quoted as saying by Tennis Canada in a statement. everything is going fine. However yesterday, after my normal exercise, I felt my slight discomfort and it was still there today.
That said, after talking to our doctor, we are trying to fix things the right way and will have to see something else before we start competing. I would like to thank Tournament Director Eugene and his entire team for understanding and supporting me and this decision. I am so sad not to travel to Montreal. This is a tournament that I have won 5 times and I love playing there.
Nadal, the 36-time Masters 1000 champion, is a five-time winner in Canada, having won three titles in Montreal and two in Toronto. World No. 1 Daniil Medvedev is the defending champion in the Canadian Masters 1000 event, which alternates between the host cities of Montreal and Toronto each year. This year's third oldest event on the ATP Tour will run from 7 to 14 August.
(IANS)
Disclaimer: This is a news published directly from IANS News Feed. With this, the team of bhaskarhindi.com has not done any editing of any kind. In such a situation, any responsibility regarding the related news will be with the news agency itself.