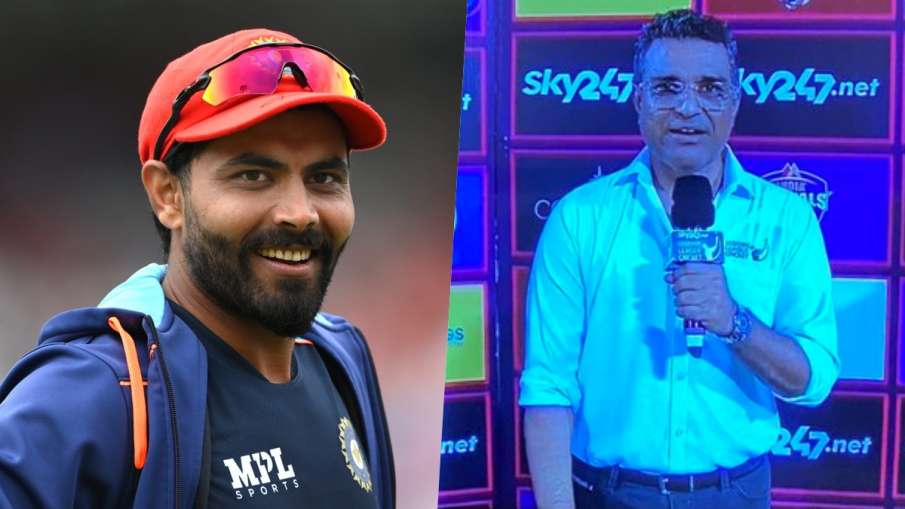 Highlights
Ravindra Jadeja running out of Team India due to knee surgery
Ravindra Jadeja will not play even in T20 World Cup 2022
Jadeja shared Sanjay Manjrekar's photo on Twitter
Ravindra Jadeja: Indian cricket team's star all-rounder Ravindra Jadeja is running out of Team India due to knee surgery. He will also have to be out in the upcoming T20 World Cup. Meanwhile, during the recovery period, Jadeja shared a picture of former cricketer Sanjay Manjrekar on his official Twitter and wrote something that started being interpreted. Significantly, in the last few years, there has been a verbal war on social media many times between these two.
Actually this time the matter does not appear to be any controversy. Ravindra Jadeja just shared a photo of Sanjay Manjrekar in which he was seen hosting the current former cricketers league. Sharing this picture, Jadeja tagged Manjrekar and wrote in the caption, "I am watching my dear friend on TV." Although there was nothing controversial in this post of Jadeja, but people had a lot of fun by commenting. This post of the Indian all-rounder was also taken by some users as a taunt.
What is the old dispute between Jadeja and Manjrekar?
There was a lot of tussle between Sanjay Manjrekar and Ravindra Jadeja during the 2019 World Cup. In an interview, the former cricketer called Jadeja a "bits and pieces" cricketer. In response to which the Indian all-rounder had also slammed Manjrekar and said, 'However he may be but has played more matches than him and is learning and going ahead. If a cricketer has achieved something, he should be respected. After this, Sanjay Manjrekar was also trolled on social media after Jadeja's good batting in the semi-finals.
Recently, Sanjay Manjrekar spoke to Ravindra Jadeja, who played a key role in defeating Pakistan in the Asia Cup 2022 league match. At the very beginning of this on-air conversation, Manjrekar had asked Jadeja whether he was comfortable talking to him or not. Responding, Jadeja laughed and said, absolutely. Its video also became fiercely viral on social media. Now sharing this photo of Jadeja is either to extend a hand of friendship by forgetting old things towards Manjrekar or it is just a funny taunt.
Ravindra Jadeja is currently taking rest after undergoing knee surgery earlier this month. He was injured during the Asia Cup. Since then he has been away from international cricket. He is also not part of the team in the upcoming T20 World Cup 2022. Last year in the IPL too, his name was in constant controversy. He got the captaincy of the team. After that MS Dhoni became the captain again in the middle of the season and he left the captaincy. There too he was out of a few matches due to a knee injury. Now it has to be seen when this star all-rounder returns to the Indian team, but in the upcoming World Cup, the team will definitely miss him.