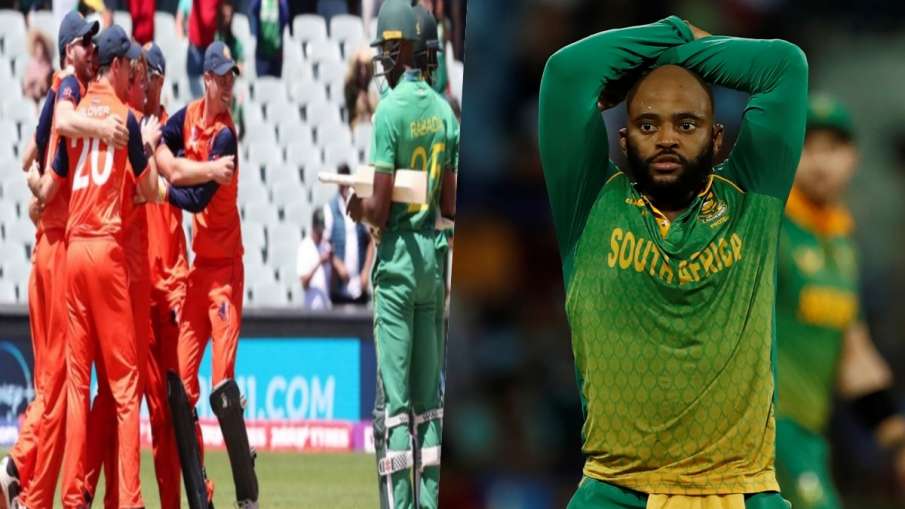 SA vs NED: The T20 World Cup 2022 saw one of the biggest upsets of the tournament on Sunday, November 6. South Africa, considered one of the strongest teams of the tournament, were knocked out of the tournament by a 13-run defeat by the Netherlands. South Africa's team, despite performing well in ICC tournaments, loses in the end, hence it is called 'chokers'. The same was once again seen in the ongoing World Cup in Australia. After this defeat, Africa captain Temba Bavuma said that, it is difficult to accept the fact of being out of the T20 World Cup.
After the match, a disappointed Bavuma said, "It is difficult to digest this defeat. As a united unit, we were confident of reaching the playoffs." South Africa, having a strong pace attack, needed to beat a weak Netherlands to reach the semi-finals. But with this vicious defeat, the match between Pakistan and Bangladesh became a 'do or die' contest. After defeating Bangladesh in today's second match, Pakistan made it to the semi-finals, after which the hopes of India-Pakistan final have been awakened once again.
That's why South Africa got the name of 'chokers'
The loss to South Africa had ensured India's place in the last four even before the result of the match against Zimbabwe. Bavuma said, "Unfortunately we could not win. It was not right to bowl after winning the toss. We lost wickets at crucial times. They (Netherlands team) made good use of the ground which we could not do." Let us tell you that the African team is always one of the top contenders before the tournament but is eliminated at the end of the ICC event. The team is yet to reach the final of the World Cup. The team was eliminated in the semi-final stage in the T20 World Cup twice in 2009 and 2014. In the ODI World Cup she lost the last four on four occasions in 1992, 1999, 2007 and 2015.
At the same time, after registering the first win over South Africa in any format, Netherlands captain Scott Edwards had no words to describe the joy. "There is a lot to be said, but it will take some time to tell it. Another big upset win for the Netherlands in the World Cup." This was Netherlands' second win in the Super 12 stage, having beaten Zimbabwe by five wickets earlier. The Netherlands had nothing to lose in this match but they told the Proteas and did the same thing that, we will drown, Sanam you too will drown.
Also read:-