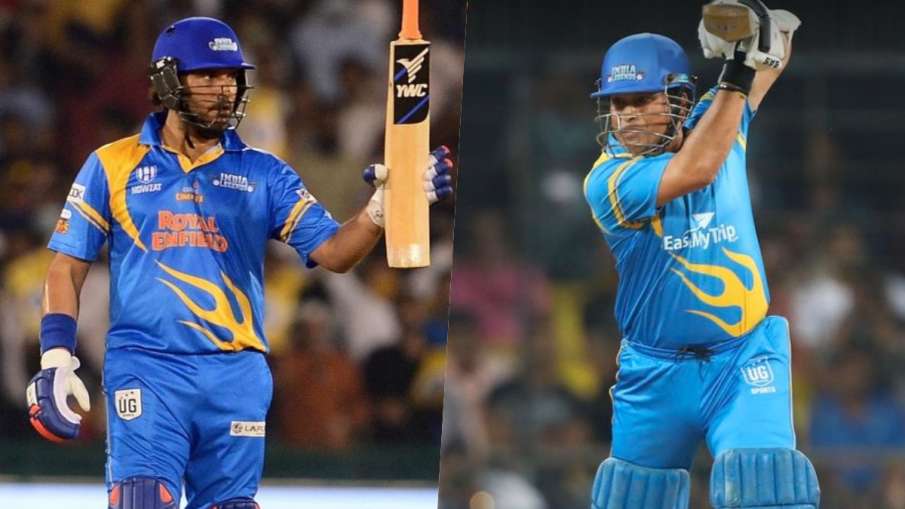 Highlights
Sachin Tendulkar hit 40 runs in 20 balls
Yuvraj Singh played an unbeaten 31 off 15 balls
India Legends beat England Legends by 40 runs
Sachin Tendulkar-Yuvraj Singh: These days old stars i.e. many veteran former cricketers are constantly seen spreading their flames. The second season of the Road Safety World Series is on and retired cricketers are seen leaving their mark again. Something similar happened in the 14th match of the tournament when India Legends defeated England Legends by 40 runs. This rain-affected match was played in 15 overs. In this match, India Legends captain Sachin Tendulkar and Sixer King Yuvraj Singh thrashed the English bowlers.
Sachin and Yuvi's bat roared fiercely
England captain Ian Bell won the toss and elected to bowl first and in this 15-over match, India got a tremendous start by captain Sachin Tendulkar and his fellow opener Naman Ojha. Both shared a partnership of 65 runs in just 34 balls. The special thing is that in this match also 49-year-old Sachin Tendulkar appeared in his old style. He played one catchy shot after another. In his innings, he scored 40 runs in 20 balls at a strike rate of 200, which included three fours and three sixes.
It was started by Sachin, but Yuvraj Singh, popularly known as Sixer King, brought this innings to the end. Yuvi came to the crease after the wicket of Suresh Raina, called Mr. IPL, fell for 107 runs. After taking four singles off the first four balls, he hit a Gagan Chumbi six over Dernbach on the fifth ball. Then he fell silent and after scoring 12 runs off 9 balls, he targeted England's Stuart Meeker. He hit two sixes in the 14th over.
In the last over of the innings, Yuvraj Singh scored 6 runs including 2 singles and a four. He remained unbeaten in this innings of 15 balls and scored 31 runs which included 1 four and three sixes. Yuvi scored runs in his old style at a strike rate of 206. In this innings, Yusuf Pathan also scored 27 runs in 11 balls at a strike rate of 245. In this way, India Legends made a huge score of 170 runs in 15 overs and the England team could only score 130 runs for 6 wickets in the stipulated 15 overs. Rajesh Pawar also bowled brilliantly for India, taking 3 wickets for 12 runs in 3 overs.
Also read:-