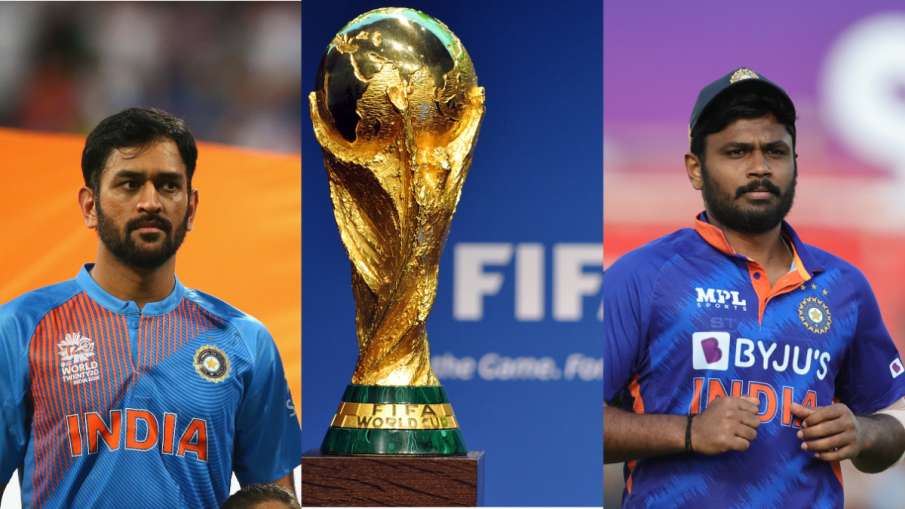 FIFA World Cup 2022: This year's FIFA World Cup is being played in Qatar. A total of 32 teams are participating in this World Cup. This is the second time in World Cup history that the World Cup is being played in an Asian country. The Indian team has not participated in the FIFA World Cup till date. Most people in India prefer to watch or play cricket than football. People in India are huge fans of cricketers. But if I tell you that Indian cricketers are being seen in FIFA as well, then you will be completely surprised. What will cricketers do in a football tournament? Let us tell you what is the whole matter.
In fact, during a match played in the FIFA World Cup, a fan reached inside the stadium with a poster of Sanju Samson. Team India is currently playing ODI series in New Zealand, Sanju is a part of this team. The Sanju fan following in Qatar, 14,585 kms away from New Zealand, is mind blowing. Sanju's fans are present in all the countries of the world including India. Sanju has not been able to play many matches for India, but still there is no dearth of his fans. Even during the recent T20 series in New Zealand, people came to watch the match carrying Sanju's poster. Whereas Sanju was not a part of that T20 squad. Apart from Sanju, a fan of former Indian team player Mahendra Singh Dhoni also reached the stadium with his number jersey in the FIFA World Cup. That picture also went viral on social media.
IPL franchise Rajasthan Royals (for which Samson is the captain) posted a picture of a fan supporting Samson in a World Cup game in Qatar. The banner read, "Lots of love from Qatar. We support Sanju Samson" and "Regardless of the match, the team or the player, we are with you… Sanju Samson." Along with Indian fans, some foreigners are also seen posing behind a banner.
The 28-year-old Samson was also not selected for the T20I series against the Kiwis after the 2022 T20 World Cup. He was selected for the first ODI in Auckland, but in the second match the wicket-keeper batsman was dropped from the playing XI. India's stand-in captain Shikhar Dhawan spoke candidly on the decision to drop Samson. "We wanted a sixth bowling option, so Sanju Samson missed out and Hooda replaced him," Dhawan said after the second ODI was washed out in rain. Earlier, India's stand-in T20I captain Hardik Pandya had also said that resting Sanju Samson was an unfortunate matter. Pandya said that he could not pick Samson due to strategic reasons.