Sidharth Malhotra Kiara Advani Confirm Their Relationship: Karan Johar is such a person who makes guests sit on his couch and gets everything spewed. Talking about his popular show 'Karan with Koffee' (Koffee With Karan 7). This time the season is also going quite bang. This time he also confirmed the news that Sidharth Malhotra and Kiara Advani are actually dating each other.
For a long time, Siddharth and Kiara often remain the headlines of the news regarding their dating. However, both of them never openly accepted this talk. But Karan Johar did it. This time in 'Koffee with Karan 7', his guests became two Munde i.e. Vicky Kaushal and Siddharth Malhotra. Both openly talked about their personal and professional life.
Now that Vicky has settled with Katrina Kaif, there was bound to be a discussion about Siddharth's relationship-marriage plan. That too when there are constant discussions about him and Kiara's dating. So let us tell how, during a conversation with Siddharth, Karan got him to spit that he and Kiara were dating each other.
Karan spilled the truth from Siddharth
So it happened that after talking to Vicky about Katrina, Karan turned to Siddharth and said that since this couch is 'Manifestation couch', do you also want to say something. Siddhartha wanted to avoid this question. But Karan is Karan. He asked the question directly, "So are you dating Kiara Advani? Do you have any future plan? Anything we need to know?"
Then Vicky immediately starts singing the song 'Rata Lambiya' from 'Shershah' to tease Siddharth. At the same time, Siddharth says, "I want to reveal today that…", then interrupting Karan says, "Does he want to say that he will marry Kiara Advani?"
Siddharth only replied, "A bright and happy future." Karan does not stop on this too. Adding to his line, he goes on to say, "With Kiara Advani." After this, Siddharth gives the final answer, 'If she will be there, then it will be great.'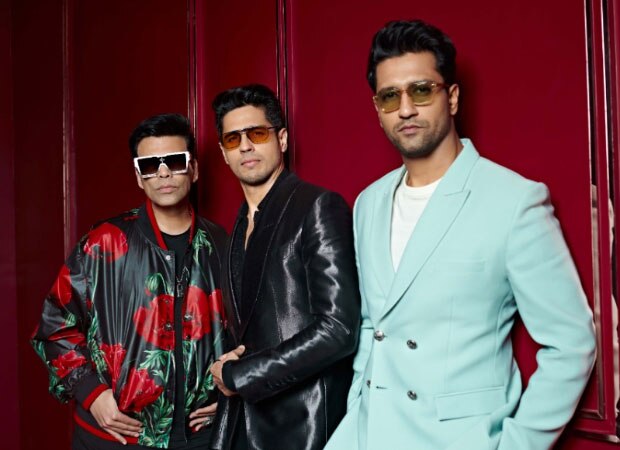 After this, Karan shows a clip of Kiara (Kiara Advani) and Shahid Kapoor from his next episode, in which she blushes when asked about her relationship with Siddharth.
Read also: Will Tabu be with Kareena Kapoor in Rhea Kapoor's next project? There is talk of the sequel of this film
Read also: Bhajji's wife Geeta Basra is ready to make a comeback after 6 years, sign this big producer's film