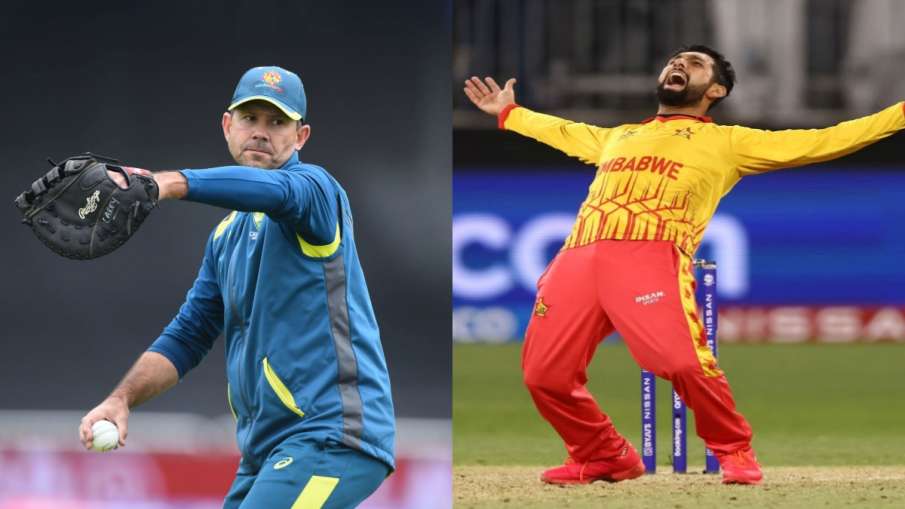 PAK vs ZIM: Today's third match in the T20 World Cup was played between Pakistan and Zimbabwe. In this thrilling match, Zimbabwe's team made a big upset by defeating Pakistan by one run. Batting first, Zimbabwe scored 130 runs for the loss of 8 wickets. In response, Pakistan's team could score only 129 runs for the loss of 8 wickets. Star all-rounder Sikandar Raza was the hero of this victory. After the match, Raza made a big statement about former Australia captain Ricky Ponting.
Raza gave a big statement
Zimbabwe all-rounder Sikandar Raza played a key role in a shocking one-run win over former champions Pakistan in the T20 World Cup, thanks to inspirational words from Australian great Ricky Ponting. Raza, who took three wickets for 25 runs in four overs, played a key role in the big upset and earned him his third 'Man of the Match' award.
Ponting had helped
Raza said after the match, "This morning Ricky Ponting sent me a small 'clip'. I was excited, I was nervous, I was excited for today." He said, "There was motivation but I needed to do a little better. I think that clip did a great job so thanks to Ricky too."
Captain Erwin said this thing
Zimbabwe captain Craig Irvine described the win as a special one. "Given the work we did in Super 12, we didn't want to let the tournament end here. We wanted to play good cricket against top teams. Pakistan captain Babar Azam was very disappointed with this defeat, he said that the team's batting was not good.
"The first 6 overs were not good for us but Shadab Khan and Shan Masood played a partnership but unfortunately Shadab got out and then wickets kept falling which put pressure on the batting," he said.