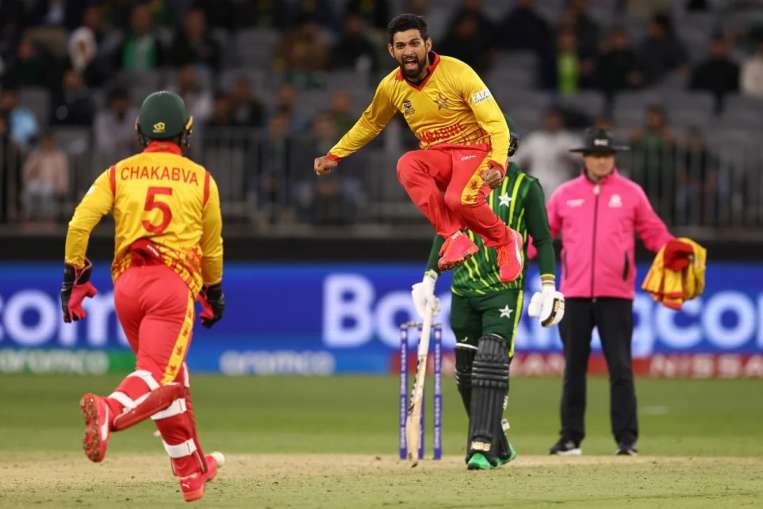 T20 World Cup 2022 PAK vs ZIM: Today's third match in the T20 World Cup was played between Pakistan and Zimbabwe. In this thrilling match, Zimbabwe's team made a big upset by defeating Pakistan by one run. Batting first, Zimbabwe scored 130 runs for the loss of 8 wickets. In response, Pakistan's team could score only 129 runs for the loss of 8 wickets. After the defeat in this match, where the Pakistani team is being made fun of all over the world, now Zimbabwe's President Emmerson Nangagwa has also publicly trolled Pakistan.
Zimbabwe's President made fun of Pakistan
As soon as Zimbabwe's team made a big upset by defeating Pakistan, there has been a ruckus on social media since then. People are constantly trolling this team. Even some stalwarts of Pakistan are constantly venting their anger by blaming poor management. Zimbabwean President Emmerson Nnangagwa tweeted: "What a great victory for Zimbabwe! Congratulations to the Chevrons. Next time, sending the real Mr. Bean…"
What is the story of Fake Pak Bean?
However, most people did not understand why the President of Zimbabwe talked about fake beans. Before this exciting match, most of the Zimbabwean fans were trolling Pakistan on social media by taking the name of Pak Bean. Actually there is a big story behind this case. Let us tell you that in the year 2016, during the Harare agricultural show in Zimbabwe city, Pakistan sent an artist as a fake Mr. Bean. The person who was sent to Zimbabwe by Pakistan as a fake Mr. Bean was named Asim Mohammad. This man looked like Mr. Bean and this man was charging $10 for the most appearances on that show.
shameful defeat for pakistan
Pakistan's condition is getting worse in the T20 World Cup. In the first match, they were defeated on the last ball by Arch Rivals India, and in the second match, Zimbabwe defeated Pakistan in a thrilling match that lasted till the last ball. In this match, Pakistan had to lose by one run. In this ongoing World Cup in Australia, Pakistan has played 2 matches so far and they have lost both, which has made their way forward in this tournament very difficult.
This was the last over game
Pakistan needed 11 runs in the last 6 balls to chase down the target of 131 runs. Mohammad Nawaz scored 3 runs off the first ball. Now Pakistan needed 8 runs in 5 balls. On the second ball, Nawaz hit a four and turned the match largely in favor of Pakistan. Now Pakistan needed only 4 runs to win in the last 4 balls. Nawaz took a single off the third ball of the last over, Pakistan were now just 3 runs away from victory.
Awans bowled the fourth ball dot ball, Pakistan needed 3 runs to win off the last two balls. Just then Nawaz misses and is caught at mid-off. Pakistan batsman Shaheen, 3 runs away from victory on the last ball, played a down-the-ground shot and was run out for the second run in a bid to tie the match.