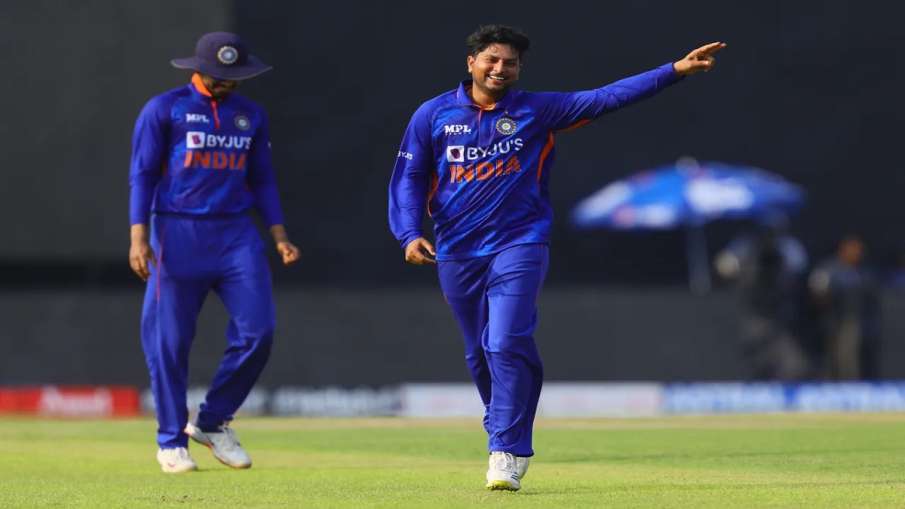 Highlights
Kuldeep Yadav took four wickets in the third ODI
Most victims in the series against South Africa
India won the ODI series 2-1
T20 World Cup: India also captured the three-match ODI series by registering a one-sided victory in the third match against South Africa. Team spinner Kuldeep Yadav played an important role in India's victory in the last and deciding match of the series played at the Arun Jaitley Stadium in Delhi. The 27-year-old left-arm spinner shook South Africa's middle order with his four for 18 in the third ODI on Tuesday. In front of Kuldeep's spin, the star batsman of South Africa looked completely helpless and kept on losing wickets, due to which the entire visiting team was reduced to 99 runs.
After the match, Kuldeep expressed happiness over his performance and talked about his preparation. He also gave his side regarding the World Cup. The wrist spinner wants to focus on the upcoming tournaments instead of just thinking about the ODI World Cup to be played in India next year. He also has no regrets about not getting a place in the upcoming T20 World Cup to be held in Australia.
Aim to do well in every series
After the match, Kuldeep said in the press conference, "There is still time in the World Cup. I'm not thinking about that. I have become very practical about things now. I pay close attention to the series I play. I have become experienced now, so now I know how to bowl. My aim is to do well in every series.
spin don't compromise
Kuldeep, who has been away from the game for a long time due to a knee and then a hand injury, said that he has worked hard to find his rhythm after regaining fitness. The left-arm spinner said, "I have worked on finding my rhythm after recovering from injury. I was able to regain the speed before my hand. I am not compromising on spin so my ball is taking a lot of turn.
Don't regret not getting selected in T20 World Cup
Although Kuldeep has not got a place in the team of T20 World Cup starting next week, but he does not regret it. "I am not disappointed with the T20 World Cup (not being selected) as I am working on my match-by-match process. I am assessing how I can improve.
Helped in coming back from IPL
Kuldeep, who has been out of the XI for most of the time for Kolkata Knight Riders in the Indian Premier League, has done well after joining Delhi Capitals last season. "IPL has boosted my confidence. After that I got injured. I bowled economical in West Indies, Zimbabwe and India A series. Now I am able to hit the ball where I want to.