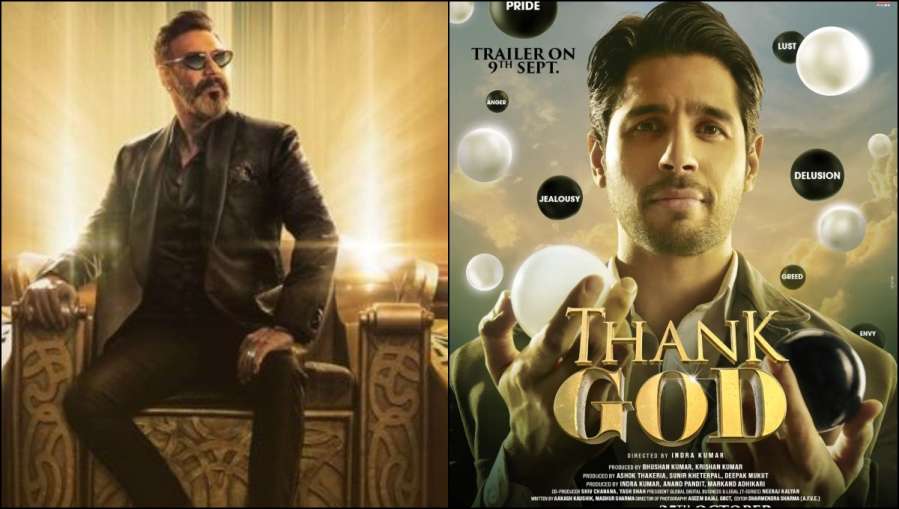 Highlights
There is a tremendous dose of comedy in the 3 minute and 9 second trailer
Ajay Devgan will teach the lesson of humanity by becoming Chitragupta
Thank God Trailer OUT: The trailer of Bollywood actor Ajay Devgn, Sidharth Malhotra and Rakul Preet Singh starrer 'Thank God' has been released. All the stars have shared the trailer of their film on their respective social media accounts. A tremendous dose of comedy is being seen in this trailer of 3 minutes and 9 seconds.
At the beginning of the trailer, it is shown that Sidharth Malhotra is talking on the phone while driving the car. Due to saving a person, he gets into an accident of his own. After which his eyes open in Yamlok and Chitragupta i.e. Ajay Devgan is waiting for him in Yamlok. Where Ajay gives his introduction and accounts of Siddharth's deeds.
Sharing the trailer on his social media, Ajay wrote in the caption that – "The festive season is all set to begin with the game of life, where everyone will have their karma ka haisab! #ThankGod Trailer is out now. 25 In cinemas on Oct. @sidmalhotra @raculpreet."
Sidharth Malhotra shared the trailer and wrote, "This Diwali, we are all set to start the game of life, where everyone's karma will decide! #ThankGod trailer out now. In cinemas on October 25."
The film also features a dance number by Nora Fatehi. Nora will be seen dancing to the remake song of "Manike Mage Hite". Ajay Devgan and Rakul Preet Singh are going to work together for the third time in Thank God.
The film will be released on the occasion of Diwali 2022 along with Akshay Kumar's upcoming film 'Ram Setu'. There will be a clash between both the films.