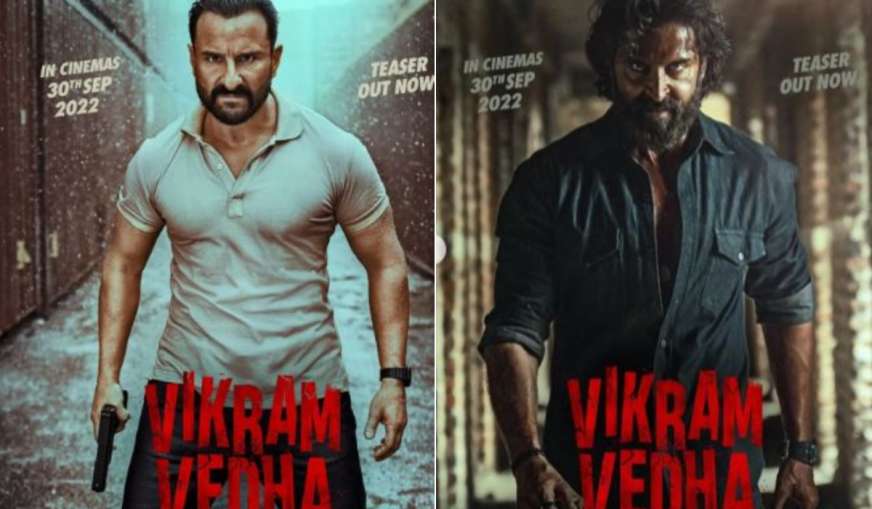 Vikram Vedha Teaser Out: The teaser of Bollywood actor Saif Ali Khan (Vikram) and Hrithik Roshan (Vedha) starrer Vikram Vedha has been released. The film is a Hindi remake of the Tamil film Vikram Vedha, which was released in the year 2017. The teaser of one minute 54 seconds is full of action, besides it also has strong dialogues. After the teaser launch of the film, the songs of the film will be released in the first week of September. Hrithik Roshan is playing the role of Villain in the film. On the other hand, Saif Ali Khan will be seen in the role of a policeman in the film.
Bollywood Wrap: 'Avatar' new trailer released, 'Lal Singh Chaddha' rocked abroad, know every news of the entertainment world
The film will release on this day
Let us tell you, Hrithik Roshan will be seen with Saif Ali Khan in 'Vikram Vedha'. The teaser of this film that came out recently is very interesting and banging. It can be said that in this, Saif has given another best performance as Vikram. From Safe's chiseled body to the high octane action sequences and Vikram's advances, the trailer has been well depicted. That is, Saif is in full form. In the beginning of this teaser, it is shown that Saif Ali Khan and Hrithik Roshan are sitting face to face in front of a table in a room. Vedha (Hrithik) tells Vikram (Saif), 'Tell a story sir, listen with patience and meditation. This time it will be not only fun but also surprise. Apart from Saif and Hrithik, the film also stars Radhika Apte, Rohit Saraf and Yogita Bihani. Actors R Madhavan and Vijay Sethupathi were in lead roles in the original film. Let us tell you that this film will be released in theaters on 30 September 2022.
Avatar: New trailer release of 'Avatar', the film will hit theaters on this day
role of a criminal
In this film (Vedha) means Hrithik Roshan is playing the role of a vicious criminal played by South superstar Vijay Sethupathi. While the film's (Vikram) Saif Ali Khan R. Madhavan will be seen in the role of a police officer. One who gets caught in the story told by the criminal every time and is unable to catch him. This film is made under the direction of Pushkar and Gayatri.
Fans compared Nawazuddin with Archana Puran Singh after seeing the poster of the film Haddi, then the actress gave this answer
LSC WorldWide Box Office: 'Lal Singh Chaddha' breaks all records, highest grossing Hindi film abroad