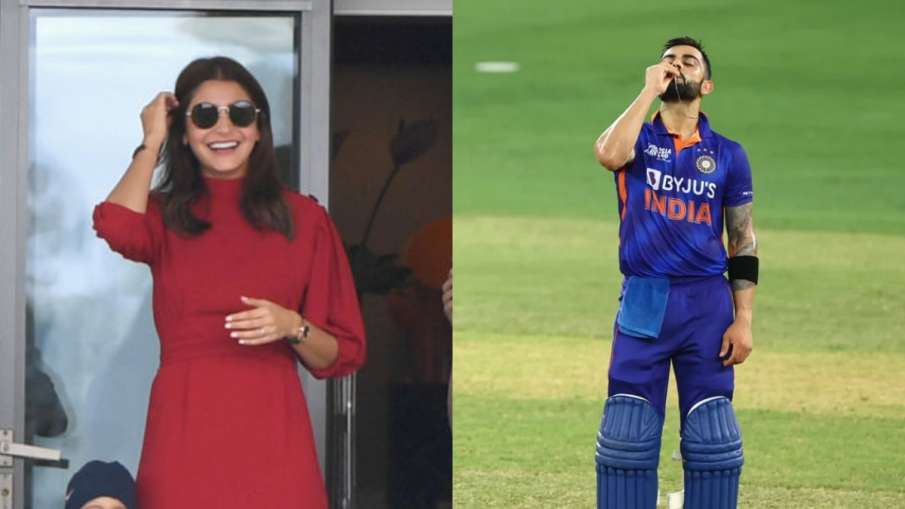 Highlights
Virat Kohli scored a century after a long wait
Kohli dedicates century to wife Anushka and daughter Vamika
Kohli celebrated in a different way
Virat Kohli Dedicates Century to Anushka: Virat Kohli has struggled a lot for this day. He had to see many colors of life for this. Many criticisms had to be endured. This day came after a long wait in Kohli's life. He scored a brilliant century in the Asia Cup 2022. Virat played an unbeaten innings of 122 runs off 61 balls at a strike rate of 200 and once again dominated everyone.
century was not expected in this format
After scoring a century, he said, "This century is worth 100 words, I feel grateful and lucky. The last two and a half years taught me a lot. I will turn 34 this November, so celebrating is a thing of the past. I was shocked by this century as I was least expecting it in this format.
The team gave a chance to move forward
After scoring this memorable century, he did not appear on the field with the same vigor and aggression as before. Kohli enjoyed this moment by being a little emotional.
He said, "Celebration after century celebrated many things, now I can back the team, the team always came forward for me and gave me full opportunity to groom my game and I got a chance to move forward with my thinking. Gave."
Centenary dedicated to wife Anushka and daughter Vamika
The former Indian captain scored this century after a long wait of 2 years 9 months and 16 days and dedicated it to his wife Anushka Sharma and daughter Vamika.
Kohli said emotionally, "Also, one person always stood by me to help me with my thinking and it was Anushka and I dedicate this century to my wife and daughter Vamika. It helps when someone like Anushka stands close to you with confidence. Time has taught me a lot. I am happy to be back after a break of six weeks. I know I was quite tired mentally and physically. When I came here and played in the nets, I loved it."